Skill Level:
Crafting Time:
Technique(s):
Material(s):
Category:
Share This Craft
Search Crafts
Holly Jolly Gift Card Holder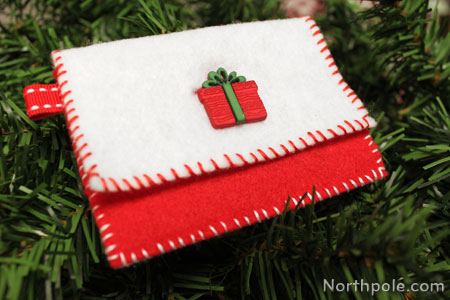 Make giving a gift card memorable with a handmade and reusable felt envelope. We used red and white felt and thread with two iconic Christmas images—a present and a tree. The present is actually a button, while the tree is sewn onto the front of the envelope. You can also use paint and stencils/stamps to create your own design. Try personalizing the card holder by adding the recipient's name or by using his favorite colors. Changing the colors will also make this craft appropriate for any occasion (birthday, baby shower, etc.). This envelope can be used again and again or even hung on the Christmas tree as a keepsake.
Supplies & Tools: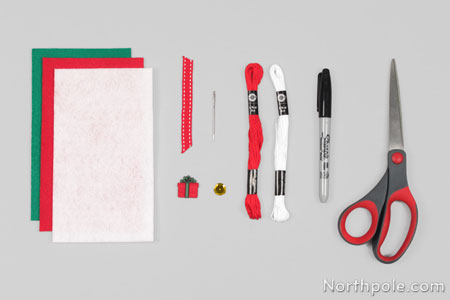 Felt: white, red, green
Embroidery floss: red, white
Sequin
Decorative button
Embroidery needle
Scissors
Thin ribbon, about 3/8" wide
Marker
Directions:
Print the template and cut out pieces that are on page 1. Keep pages 2–3 for reference.
Trace each piece onto corresponding felt color and cut out.
Place piece #3 in the middle of #1a.
Using red floss, sew a zigzag line in the middle of #3. This zigzag line will join pieces #1 and #3 together, and it will resemble garland on the tree. Begin sewing at the bottom piece #3, working your way up to the peak of the tree.
Once at the tip of the tree, sew a sequin at the top. (You will need to pierce a second hole in the sequin in order to keep it in place.)
Cut a length of red floss that is about 20".
Sew a border around three sides of piece #1b.
Set piece #1 aside.
Sew a large decorative button over the "+" on piece #2. We used a present-shaped button.
Cut button hole in piece #1a. Our button is almost 1" wide, (7/8" to be exact) so we cut the button hole 1" wide. You may cut your button hole smaller or larger depending on the size of your button.
Take piece #1 and flip over.
Rotate piece #2 180° so that the button is facing the right direction.
Place piece #2 on #1a.
Cut a piece of ribbon that is 1.5" long. Fold ribbon in half and place the ends of ribbon in between piece #2 and #1a (see diagram). (You will sew it down in step 16.)
Cut a length of white floss that is about 24" long.
Sew pieces #2 and #1a together. Sew along the outer three edges of #1a (see diagram).
Now you can place a gift card inside.
Fold white flap (#1b) over to close.
To hang it on a Christmas tree, attach an ornament hanger to the ribbon.